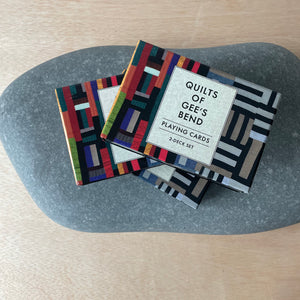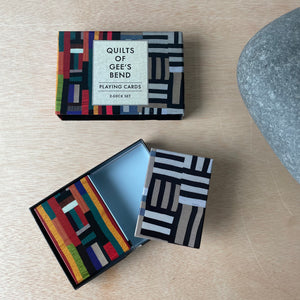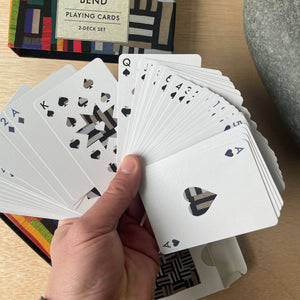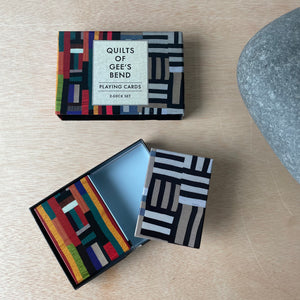 Chronicle
Quilts of Gee's Bend Playing Cards
Admire the colorful artwork of the Gee's Bend quilters as you play with these two 54-card decks. Build a winning hand on game night or deal a set for solitaire—there are as many ways to use these colorful playing cards as there are pieces in the beautiful quilts that adorn them!
FROM THE MUSEUM TO YOUR GAME COLLECTION: From the High Museum of Art in Atlanta to the Metropolitan Museum of Art in New York City, quilts by the Gee's Bend artists hang in major collections throughout the United States. Now, you can bring these inspiring pieces into your home, and share them with the people you love.
INCREDIBLE ARTISTRY: The vibrant colors, playful geometric shapes, and organic improvised patterns that define the Gee's Bend quilting aesthetic have garnered increasing attention and admiration in recent years. Shuffling through the colorful playing cards of this deluxe boxed set, it's easy to see why—the quilts are eye-catching and distinctive, an inspiration to quilters, crafters, and art-appreciators everywhere.
A POWERFUL STORY: Women in the small Black community of Gee's Bend, Alabama, have created hundreds of quilt masterpieces over the years. The inhabitants of this rural community are primarily the descendants of the slaves who worked the fields of the local Pettway plantation for generations. Nearly surrounded by the Alabama River, and lacking access to ferries that now transport people to and from this tiny hamlet, Gee's Bend remained geographically isolated for years. That isolation created dire economic conditions for the town's residents—but it also allowed the astounding creativity of these quilters to flourish and grow into a cultural legacy unlike any other.