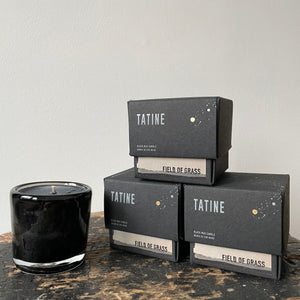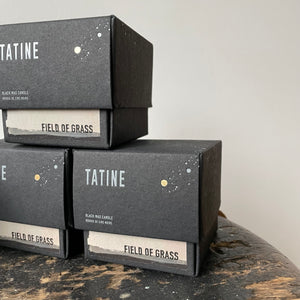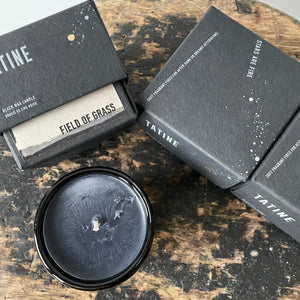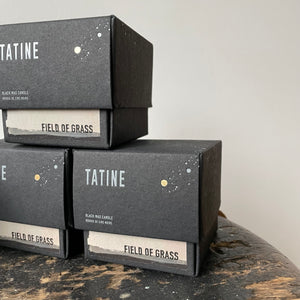 Tatine
Stars are Fire Field of Grass Hand-Poured 3 oz. Candle by Tatine
The Makers: This is Tatine, in a nutshell:
"INSPIRATION: Emotion, experiences, love, music, memories, travel, sensuality and moments captured, underlining life.
ATMOSPHERE:
Freshly cut grass in the heart of the country. Swaying daises sing a lazy song beneath the sun.
The sweet, joyful, and nostalgic smell of cut grass. Top notes of summer grass under a sun shower. Notes of golden flowers, green tea, and lemon bloom at the core to create a heaven-sent memory.
DETAILS
Natural Wax Candle in Smoke Grey Mouth Blown Glassware

Not a trace of petroleum-derived paraffin is used in our wax formulation.

Composed of an exquisite blend of bespoke perfume oils and essential oils, which are phthalate-free and crafted with cotton wicking. 

Poured into artisan mouth-blown glassware exclusive to Tatine, crafted to be drink safe. Gently hand wash or place the glass in the dishwasher for use at your next celebration and let it live uniquely on.

The candle is held within a small parcel made from 100% post-consumer soft cotton paper. Each parcel is unique from the next and slight flaws in recycled paper is considered part of the charm.

Flatten the beautiful origami-style box, as the scent of each candle leaves its mark and can be slipped into a drawer to emit a delicate fragrance.
PETITE 3 OUNCE BLACK WAX
up to 16 hours of a delicate fragrant atmosphere when burned properly.

Our petite candles are tinted black with ingredients extracted from vegetable oils that are both Prop65 and REACH compliant. 

Inky black when lit, a light grey crystallization or texture may appear on the unlit candle surface. This is considered a unique part of working with natural colorants.
Check out even more Tatine fragrances.