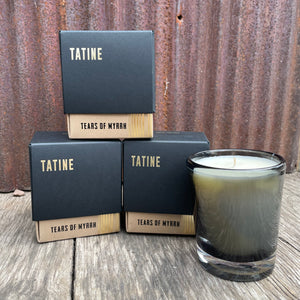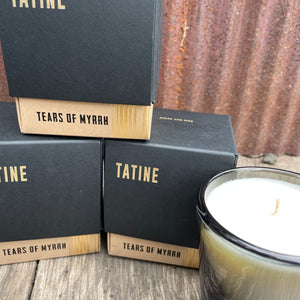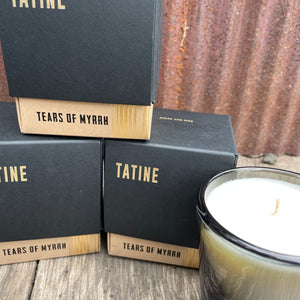 Tatine
Stars are Fire Tears of Myrrh Hand-Poured Candle by Tatine
These candles totally ran me over when they came in. There is something deep hitting and beautiful about them.  
Magic, I tell you.  
Read the notes and brace yourself for these.
Into the Mystic 
Perfumed trees of antiquity weep bittersweet tears of precious resin. Dark tones of frankincense & myrrh are carried to the heavens on a floral crown of orange blossom and sweet freesia. Charred vetiver & altar incense rise into a soulful blend of holy smoke.​ 
PRO-FUMARE
/to perfume/ 
THROUGH SMOKE AND FLAME
Perfumed interior fragrance. Mingling tradition with modern scent. A mixture of floral and Oaken smoke reveals a spiritual and romantic harmony of aromas.
ROMANTIC
Four new mysterious and deeply romantic custom fragrances created from the ground up, based in the timeless, traditional roots of perfumery. 
The packaging design is inspired by an adoration of the Dada art movement. Antique copper and black foils are deeply impressioned into a slate gray cube box. With great attention to detail, there is a magical reveal when opening the box. 
8 oz Hand blown glassware; approx. burn 50 hours
Check out even more Tatine flavors.