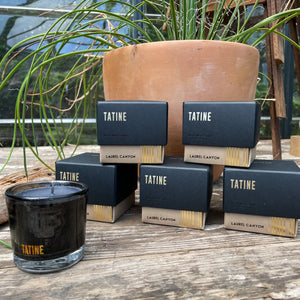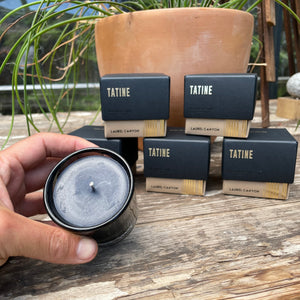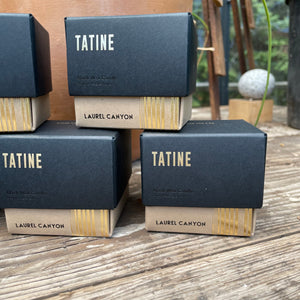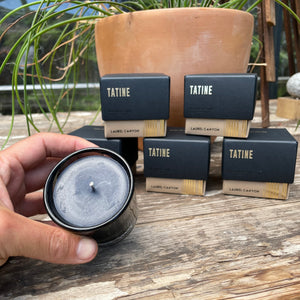 Tatine
Laurel Canyon Hand-Crafted Candle by Tatine
The Makers: This is Tatine, in a nutshell:
"INSPIRATION: Emotion, experiences, love, music, memories, travel, sensuality and moments captured, underlining life.
ATMOSPHERE: The crackle of a needle on a record, a warm candle flame. Storytelling through rock 'n' roll and mesmerizing fragrance blends.
JOY: joy  joi/  noun  // noun: joy; a feeling of great pleasure and happiness."
The Work: These candles are the real deal, made in small batches and hand poured in Chicago.  

Perfume and essential oils are blended into our GMO-free vegetable soy wax. FSC certified paper packaging is letterpress printed with vegetable based inks, to ensure your fragrant journey is a green one! 

Approximately a 16 hours burn time, and leaves a lovely subtlety when not burning.
FRAGRANCE NOTES
We are stardust – we are golden.
An evocation of rainfall on sun drenched arid soil. Canyon wildflowers float into the air and into the rain soaked eucalyptus trees, carrying the aromas of cannabis, juicy apricots, and rustic suede. You can almost smell the music.
PETITE 3 OUNCE BLACK WAX
up to 16 hours of a delicate fragrant atmosphere when burned properly.

Our petite candles are tinted black with ingredients extracted from vegetable oils that are both Prop65 and REACH compliant. 

Inky black when lit, a light grey crystallization or texture may appear on the unlit candle surface. This is considered a unique part of working with natural colorants.
Check out even more Tatine fragrances.