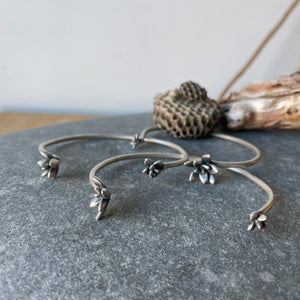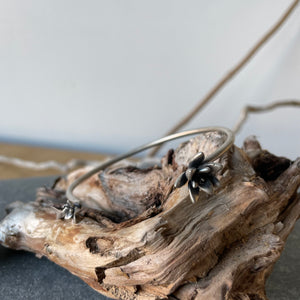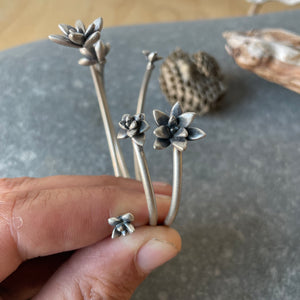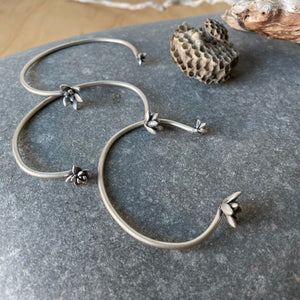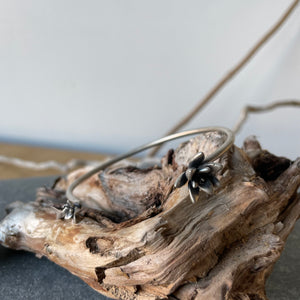 Tree Trunk Arts
Double Floral Succulent Cuff in Sterling Silver by Tree Trunk Arts
Since 2009, Collyn DeBano, the designer and maker behind tree trunk arts, has been creating  jewelry using actual plant parts to cast her pieces.
"The trees that line our streets, the plants we fill our windowsills with, the blooms we decorate our tables with. The textures and forms of nature, that are so much a part of our everyday lives constantly inspire me. Through the process of casting, I have found a way to preserve them forever and allow us to wear the moments of nature we love.  Over the last 8 years I have been collecting and casting the seeds and twigs that catch my eye and turning them into jewelry to wear everyday.  
If the beauty of nature is all around us, why not wear it?"
Cast from an actual plant, each bracelet is unique and may be slightly different than those pictured.
x Sedeveria, a floral lotus-shaped succulent of the family Crassulaceae a hybrid of sedum and echeveria, typically grows in Mexico, but these beauties are grown in collected from my own plant collection here in Detroit. In summer they adorn my front porch, cascading down out of their pots and in winter they hang in my office windows. Cast from the actual plant in solid recycled metal preserving the unique nature of each plant to make truly true-to-nature jewelry.

x Sedeveria

.25 to .5 inch cast | 6mm bezel set stone
all cuffs come on a sterling silver band
SMALL fits up to a 5.75-inch wrist
MEDIUM fits up to a 6.25-inch wrist
LARGE fits up to a 6.75-inch wrist
EXTRA LARGE fits up to a 7.25-inch wrist