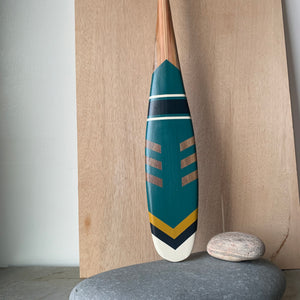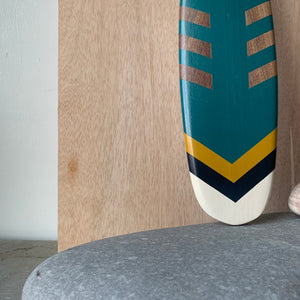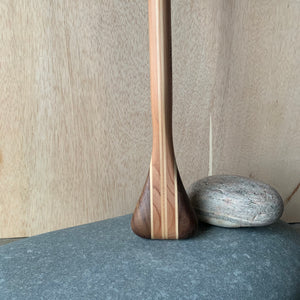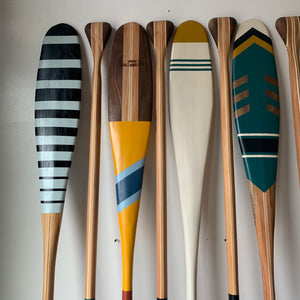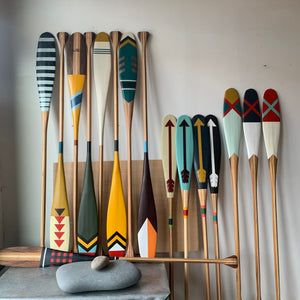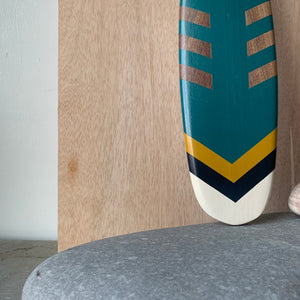 Sanborn Canoe
Mescousin Handmade Artisan Paddle by Sanborn Canoe
"The Mescousin River runs nearly the entire length of the state of Wisconsin. Much of the river has a sandy bottom, so the river is continually changing. Sandbars appear suddenly, then slip away just as quickly. A perfect camping spot one season is under water the next.  In the same way, the flow of time has turned over and transformed the name of this river. When French explorers arrived in the 17th century, they were told by the Fox people that the river was called Mescousing. Within a few years they were calling it the Ouiscousin, then the Ouisconsing, and eventually settled on the Wisconsin. We've chosen the name Mescousin as a nod to another time; not so far off in years, but truly a different world." -Sanborn Canoe 
The glory days of the canoe may have peaked in the days of the fur trade. It spurned generations of eminence for the canoe as a means of travel and trade across North America. It also, must have been a time of great pride in working hard – something we value at Sanborn. Fur traders would routinely paddle large birch bark canoes from dawn 'til dusk, transporting furs and trade goods. Since that time the canoe has been replaced by as the workhorse of the transport industry, but the legend of its' endeavors lives on every time we pick up a paddle."

This design is painted on the Voyageur Heritage Paddle. With an elegantly traditional blade shape these are graceful in and out of the water. They're perfect for lazy turns around the lake or for gracing the wall of your cabin. Each is a laminated combination of western red cedar, aspen and black walnut.
Handmade in Minnesota!
Each paddle is 58" in length and is perfect to a day cruise or more likely to bring you constant pleasure mounted inside your abode.
See more styles here.