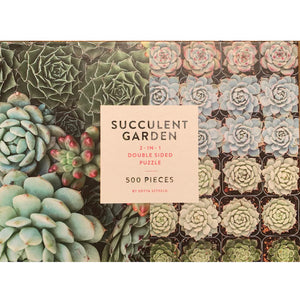 Chronicle
Puzzle 500 Two Sided Succulent Garden
500-PIECE PUZZLE: This stunning 500-piece jigsaw puzzle is just the right level of challenge for all ages—from children to adults. Plus, an insert with information about the artist and magnificent imagery is included.

DOUBLE-SIDED PIECES: The Galison Succulent Garden features double-sided pieces, so it is two puzzles in one. One side is matte and the other is glossy for easy sorting between two vibrant images.

HIGHEST QUALITY MATERIALS: Galison uses continuous quality control checks during production to ensure there is virtually no puzzle dust. Each piece is printed with no glare, non-toxic inks.

EASY HANDLING: The 500 puzzle pieces are thick and sturdy, so they are easy to work with and fit together perfectly. The completed puzzle measures 24" x 18" and the package measures 11.5" x 8.5" x 1.5".