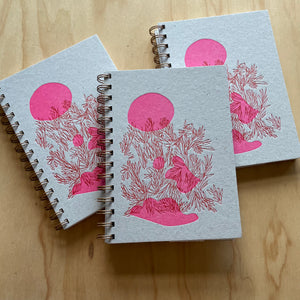 Meshwork Press
Red and Pink Leaf Pile Notebook by Meshwork Press
The Maker: Kyrie and Haylee have been friends for ages, and friends of mine too, I first met them when they worked for the lovely Lisa of Sapling press and they have now wandered out onto their talented own to create Meshwork Press, which not only brings us the good goods but funds youth art programming- stellar folks doing stellar things.
The work:
5.5 x 7.5" planner with letterpress printed 60 pt. chipboard cover. 140 lined pages. Copper wire binding. Packaged with a bellyband & a brown paper bag for protection. 
Printed, assembled, packaged & shipped in our letterpress and art programming studio in Wilkinsburg, Pennsylvania, USA.