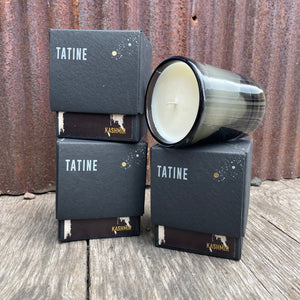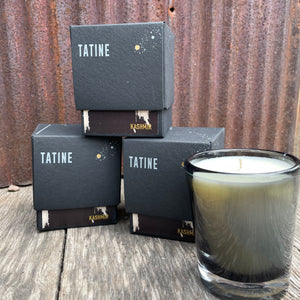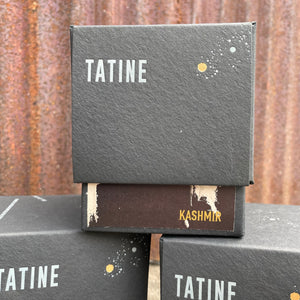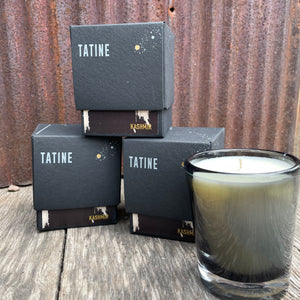 Tatine
Stars are Fire Kashmir Hand-Poured Candle by Tatine
The Makers: This is Tatine, in a nutshell:
"INSPIRATION: Emotion, experiences, love, music, memories, travel, sensuality and moments captured, underlining life.
ATMOSPHERE: The crackle of a needle on a record, a warm candle flame. Storytelling through rock 'n' roll and mesmerizing fragrance blends.
JOY: joy  joi/  noun  // noun: joy; a feeling of great pleasure and happiness."
The Work: These candles are the real deal, made in small batches and hand poured in Chicago.  
Harmonizing, fragrant compositions from the Garden + Forest. Inspired by seasonal, sensual botanicals. 
KASHMIR!
Inspired by the sexy Led Zeppelin riff, Kashmir is a fragrant unisex blend of ethically harvested sandalwood oil, white incense, and dry woody amber oil. Gunpowder and saffron tea notes anchor creamy, soft orientalist spices. Drops of exquisite magnolia flower, vanillin and musk rest in the base to create a powdery haze. Total aphrodisiac. Crank it...

8 oz. soy wax candle in artisan mouth-blown smoke grey glass. When burned properly, you will enjoy 60 hours of a delicate fragrant atmosphere.

This smoke grey glass was handmade and mouth-blown by skillful artisans and was created to be beautifully repurposed. Each piece is unique unto itself, imbued with the spirit of the maker.
Tested to be drink-safe. Gently hand wash glass for use at your next celebration and let it live uniquely on.
The candle is held within a small vintage parcel made from 100% post-consumer soft cotton paper. Each parcel is unique from the next and slight flaws in recycled paper is considered part of the charm. 

Perfume and essential oils are blended into our GMO-free vegetable soy wax. FSC certified paper packaging is letterpress printed with vegetable based inks, to ensure your fragrant journey is a green one! 

Approximately a 60 hours burn time, and leaves a lovely subtlety when not burning.
Check out even more Tatine fragrances.