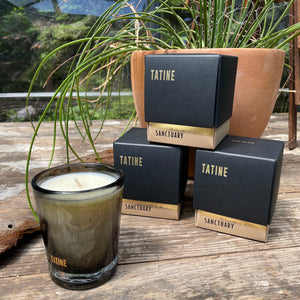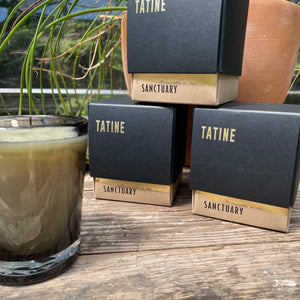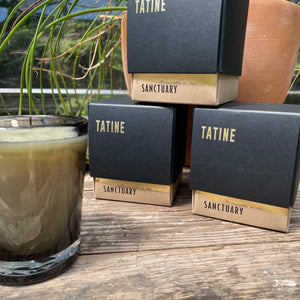 Tatine
Stars are Fire Sanctuary Hand-Poured Candle by Tatine
These candles totally ran me over when they came in. There is something deep hitting and beautiful about them.  
Magic, I tell you.  
Read the notes and brace yourself for these.
Scents of Sanctuary 
Soft golden light emanates peacefulness through Orientalist perfume notes. Fragrant ginger, coriander and sparkling mimosa scent the air. Delicate iris petals + temple sandalwood add depth to the ritual of light.​ 
PRO-FUMARE
/to perfume/ 
THROUGH SMOKE AND FLAME
Perfumed interior fragrance. Mingling tradition with modern scent. A mixture of floral and oaken smoke reveals a spiritual and romantic harmony of aromas.
ROMANTIC
Four new mysterious and deeply romantic custom fragrances created from the ground up, based in the timeless, traditional roots of perfumery. 
8 oz. soy wax candle in artisan mouth-blown smoke grey glass. When burned properly, you will enjoy 60 hours of a delicate fragrant atmosphere.
This smoke grey glass was handmade and mouth-blown by skillful artisans and was created to be beautifully repurposed. Each piece is unique unto itself, imbued with the spirit of the maker.
Tested to be drink-safe. Gently hand wash glass for use at your next celebration and let it live uniquely on.
The candle is held within a small vintage parcel made from 100% post-consumer soft cotton paper and lovingly secured with black cord. Each parcel is unique from the next and slight flaws in recycled paper is considered part of the charm.
Check out even more Tatine flavors.