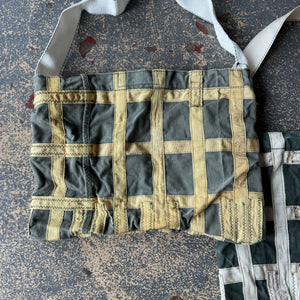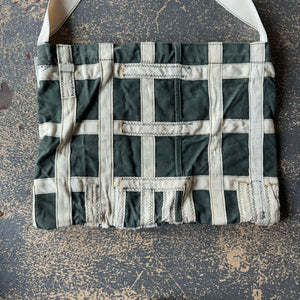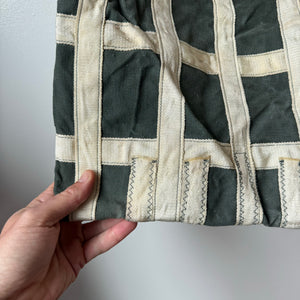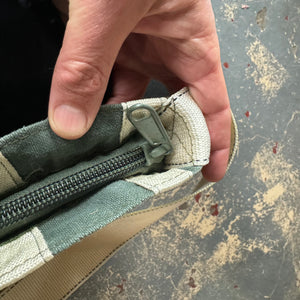 PUEBCO
Vintage Grid Recycled Material Shoulder Bag
The Maker: Puebco are conjurers of beautiful goods from recycled materials, mostly those from the Indian and Japanese military.
PUEBCO was born in Japan 2007 with the simple notion of creating things instinctively, using found and recycled materials to curate renewed lifestyle items. PUEBCO believes that just as people are the sum of their lived experiences, the objects we share our homes with should carry that same sense of history and weight. By using recycled materials and hand made processes, PUEBCO imbues these objects with the feel of many lifetimes and a sense of history that makes each piece unique. With PUEBCO products, there are no imperfections... they are details meant to be there by design.
"We purchased big parachute fabric that is not being used for its original purpose anymore. It's distinctively lightweight and strong. Although it's hard to tell because they look similar, there are two types of fabrics combined; rip stop fabric with threads woven in a lattice pattern to prevent tearing and a plain weave non-slip fabric. Handles made from dead stock or used industrial belts were used as inspiration to develop several of the items available. The materials were discovered in a town in India. We visited a small specialty shop where fabrics were piled up close to the ceiling in an area where surplus military items were commonly distributed. There was no space where is filled with fabrics even for a footstep which led us to doubt whether it should be called a store or not. Led by a clerk in the shop, we climbed up on the huge mountains of fabric. We kept moving forward, pushing fabrics aside that were not quite right until we found exactly what we had hoped for. Because we fought for hours as if exploring a cave, this material deserves our deep attachment which cannot be expressed in words."
Area: India
No.502038
Size Assorted: (Reference H 13 In. x W 18.1 in.)
Material: Repurposed Fabric (Cotton, Nylon, others)
* Note: Since it is made by reusing used bags, there are tears, holes, stains, scratches, fading, etc. on the fabric. The size, color and design are assorted and cannot be chosen.